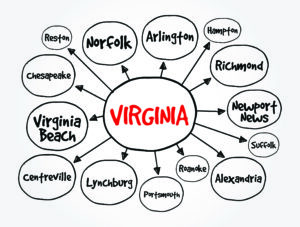 Virginia is for Lovers
Our slogan brings to mind romance, but that isn't all Virginia is about. We are lovers of mountains, rivers, beaches, wine…every square inch of the state provides an opportunity for a memorable experience, no matter what your interests.
Located midway between New York and Florida, Virginia is in the Mid-Atlantic region. The Commonwealth is bordered by Washington, D.C., the nation's capital, and Maryland to the north; the Atlantic Ocean to the east; North Carolina and Tennessee to the south; and West Virginia and Kentucky to the west.  Virginia is a southeastern U.S. state stretching from the Chesapeake Bay to the Appalachian Mountains. With historical landmarks including Arlington Cemetery, Monticello, the Jamestown Settlement, Colonial Williamsburg, and Virginia Beach.
Here in Northern Virginia we have our own easy access to much of the variety and historical monuments of the area.  Manassas National Battlefield Park where the historical battle of Bull Run occurred. George Washington's Mount Vernon. Easy access to all the splendor and National Monuments in Washington D.C.  including Arlington Cemetery, the John F. Kennedy grave site, the Vietnam Veterans Memorial, the Lincoln, Jefferson, and Washington memorials, and so many more.
Along with historic sites, Virginia  has coastline for fun at nearby beaches like Virginia Beech. Northern Virginia has options such as METRO trains, Metro buses,  and the Virginia Railway Express (VRE) offering NOVA commuters a variety of transportation options. Schools such as Georgetown University, George Mason University,  and Northern Virginia Community College, are in Northern VA. Other well known colleges are within a short distance to NOVA such as UVA, University of Mary Washington, Virginia Tech, University of Richmond, William & Mary, VPI, James Madison University and many more.  Northern Virginia , locally referred as NOVA, sits in the hub of it all.
The area is business driven due to the proximity to the federal government, tech companies, and military bases.  Additional employment opportunities in  NOVA run from small business to major corporations. NOVA is known for its entrepreneurial spirit and a number of technology based companies such as BioSpace, Lockheed Martin, Micron, SYSUSA, Inc., S.W.I.F.T, and more.
Along with great employment options, communities run from rural to city life. Apartments and condos, to town homes and single family home options. Real Estate options in in the Northern Virginia area is on the upswing. It is a great time to buy or sell in Northern Virginia.