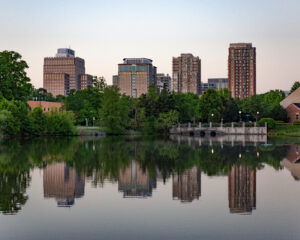 Reston is a vibrant community in the heart of Northern Virginia that was founded in 1964.  A planned community, Reston is known worldwide for its forward-thinking concepts of what it means to be able to work and play where you live, and to be connected to those around you. The community includes a variety of neighborhoods from bustling urban settings to wooded tranquil escapes. Reston was influenced by the Garden City movement that emphasized planned, self-contained communities that intermingled green space, residential neighborhoods, and commercial development.
Reston Virginia combines beautiful public parkland, a thriving restaurant scene, shopping, and family fun in a unique suburban town in Northern Virginia. The town motto—Live, Work, Play—reflects the diverse population and interesting neighborhoods that make Reston a fun day trip or getaway destination.
The total driving distance from Reston, VA to Washington, DC is 23 miles or 37 kilometers.
Cities near Reston, Virginia offering excellent employment opportunities include:

Herndon, VA.
Wolf Trap, VA.
Dulles, VA.
Vienna, VA.
Oakton, VA.
Tysons Corner, VA.
Chantilly, VA.