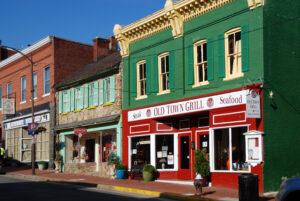 Leesburg is located in Loudoun County VA just 25 miles outside Washington D.C.. Loudoun County has attractions for outdoor enthusiasts, foodies, beer and wine aficionados and history buffs alike. Leesburg is the seat of government for Loudoun County and a picturesque little burg with a historic downtown bustling with restaurants, cafes, bars, breweries, boutiques and chic home décor stores. Stay in a colonial-era inn, dine on oysters, tacos and farm-to-table fare on King Street, and soak up the storied ambience of a town that's been home to icons such as General George C. Marshall and is now residence to artists, designers, tech entrepreneurs, NFL stars and more.
The Town's citizens are active and involved in making Leesburg the best place that it can be. Established in 1758, the town's rich history spans three centuries.  Leesburg is one of the best places to live in Virginia. Living in Leesburg offers residents a dense suburban feel where most residents own their homes. You will find many families and young professionals living in the area.  The standard of living in Leesburg ranks as #5469 most affordable out of the 6522 places measured in Virginia.
Community events like the annual Flower & Garden Festival, the 4th of July parade & fireworks, Holidays in Leesburg, the Acoustic on the Green summer concert series, and the year-round Leesburg Farmers Market.