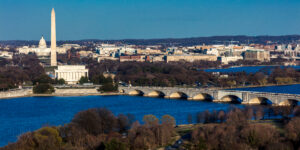 Arlington County is a county in the Commonwealth of Virginia, often referred to simply as Arlington or Arlington, Virginia. The county is situated in Northern Virginia on the southwestern bank of the Potomac River directly across from the District of Columbia, of which it was once a part. As the nation's first LEED Platinum certified community, Arlington County is a nationally recognized leader in creating a sustainable and resilient urban environment. There is a long-proven success in reducing greenhouse gas emissions, managing stormwater, fostering environmental stewardship, and promoting residents' health and well-being. With nearby communities in Crystal City, Rosslyn, and Arlington Heights, there are many cultural activities available.
Arlington County has a lot going for it. A solid public-school system, a healthy population, ample nightlife venues and accessible public transit. All of this makes the Northern Virginia county among the best place to live in America, according to a new report dated 2016. Arlington was recognized recently by Niche.Com as the "Best City to Live in America" in 2020. Along with being the home of the Pentagon, the Marine Corps War Memorial (Iwo Jima), Arlington National Cemetery, and the United States Air Force Memorial, Arlington County is home to approximately 216,700 people.
The topmost slot to live in Arlington County went to Bluemont, an Arlington suburb home to just under 6,000 people bounded to the north and east by Interstate 66 and North Glebe Road near Ballston.  Bluemont received grades of A- or above in nearly every criteria, including public school quality, diversity, family living and jobs — with the notable exception of cost of living, which earned a C+. "Most residents own their homes," noted Niche's description for the neighborhood. "In Bluemont, there are a lot of bars, restaurants, coffee shops and parks."
There are 3.41 miles from Arlington to Washington in northeast direction and 5 miles (8.05 kilometers) by car, following the US-50 E route. Arlington and Washington are 7 minutes far apart, if you drive non-stop .